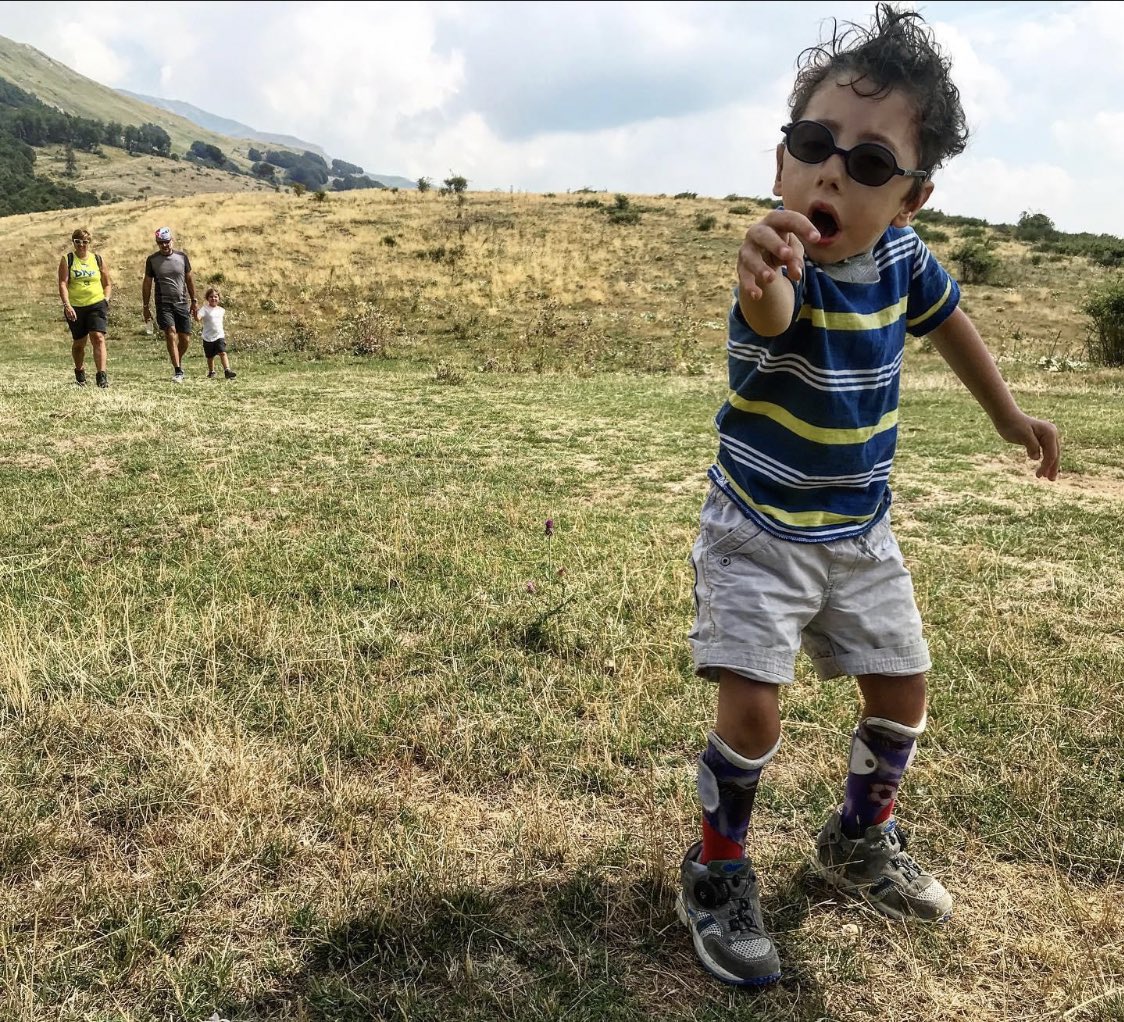 Qui l'articolo di Irene Dominioni apparso su Forbes.com, che ci ha particolarmente commosso per la capacità di descriverci con ironia e bellezza. L'uso della parola influencer ci ha fatto fare un sacco di risate!
Sirio is 7 years old, he is in second grade and he is an influencer. Or at least, his parents made him one. He has 10,000 followers on Facebook and 9,000 on Twitter, growing by the day. His "back to school" video last week made 20,000 views in a single day. He has spastic tetraplegia, a condition he got just a few weeks after he came to the world. Most importantly, he is funny and sweet as hell.
Sirio was born premature by two months. He was placed in intensive care for a few weeks, but got sent home already one month later. He was the jewel of the hospital and everyone was certain that he was going to do well.
Then it happened. Just a few days after coming home, his parents put him to sleep and he didn't wake up again. It's called "sudden infant death syndrome" a likely condition among premature newborns. "He was basically dead", recalls Valentina Perniciaro, Sirio's mother. They ran to the hospital, in the midst of Rome's traffic on a weekday morning. "It was desperate, he was without oxygen for 20 minutes. I will always remember what the doctor who reanimated him told me. She said: 'the heartbeat is there now, but I haven't done you any favor'", the mother says. Survival expectancy was minimal.
Sirio was in a coma for more than one month. "It was some dark days", Perniciaro says. He was put in hypothermia to try and stop the neurological damage. Recovery was going to be extremely slow. "They told us that he would live in a persistent vegetative state, connected to a machine, but we were lucky enough to meet a doctor who said "let's try", so we put him in a neurorehabilitation center". It was a battle: for almost a year Sirio remained in the hospital. The chances for improvements were scarce, but Sirio made progress: movement came back and he learned how to stay seated.
"We had to fight with the institutions to get the right amount of care at home", Perniciaro says. Sirio's bedroom was turned in a hospital facility. He needed nurses, all kinds of equipment and all day assistance. For two years they struggled, but "he gave signs that he was present and aware". The doctors had said that there were no chances for communication, yet Sirio managed to overcome every challenge, to stand, to walk, and to talk in his own special way, as he can't form words properly, his mouth being irrevocably open. "The tracheotomy is something we will probably never get past, but we have had answers that he wants to be a part of the world", the mom recounts. "He's a funny child, he makes fun of himself and others. He laughs like Santa Claus and has no filter, which gets embarrassing sometimes, like when someone slips on the street and he goes "Oh oh oh". We discover a whole new world with him".
Today Sirio walks with leg supports and gets food and liquids through a PEG (percutaneous endoscopic gastrostomy) tube, as he has no swallowing reflexes. "We also just found out that he is almost completely deaf, so we will have to add a pair of antennas. He's going to look even funnier, but as long as it enables him to do more things, we will do everything", the mom says.
It's not easy, of course. Between medications and a constant fight with the medical institutions, daily life is no simple task. "He is no miracle, but the result of the work of a great team that surrounds us with home assistance". The only medal as parents, the mother says, "the fact that we fight for everything we can get, while many families give up at the first answers they get". At the request to send him to kindergarten, for instance, "They looked at me in shock. These kinds of instances shake the system and you need to have the strength to take them with irony".
It is with that same spirit that Sirio's family opened the "Sirio e i tetrabondi" social media pages for him, to tell about his everyday life with a light and funny eye. It is something unseen in the world of disability, where normally a sense of pity takes over. It just started as an experiment, but turned out being extremely catchy. "Over the last month and a half the accounts boomed. We tell about our life in the periphery of Rome, which is wild. Sirio is often looked at like an alien, but we have no intention to lock ourselves up at home. He has his own personality and desires, and we can't forget that. We are not waiting for any miracle, we just like being in the world". Despite his disability, Sirio is on the first line, reckless as he can be. "We would like for him to be able to do sports someday, he has a right to his desires. He is not self-sufficient, yet he wants to do everything. And even though sometimes we do make a mess, we managed to achieve a lot: he's going to school without a diaper, like everyone else. We work it out along the way".
The daily messages of support are countless. "You are my hero", one tweets. "I woke up and was sad, then I saw you and it made my day", adds another. In a society where people's small problems often appear as uncomparable tragedies, Sirio appears to be a natural mood changer. And while there are some who also criticize the parents' choice to have him portrayed on social media, a lot more are the ones who admire the strength of this family in enduring the challenge, cherishing life every day. "Many also asked to give us money, which we could never accept. We might organize a crowdfunding to buy a special trekking wheelchair for him to go to the mountains, we can't afford it but he loves doing that. We are not there for profit, but only to say that we exist and that we enjoy living life".
Sirio's return to school after months of shutdown was a big moment. "We are really lucky, he has had the same teachers for years and the full support of the staff. But we are an exception, the school situation is really complicated at the moment, especially for disabled children". Bureaucracy and lack of resources are the biggest obstacles to getting what children like Sirio need. Now, this family's social media activity is contributing to shifting perception of what disability is and what its challenges are.
They are also planning on launching an association, to further increase visibility of these themes and help change the narrative in the country. Plans for the future are in the making one step at a time. "I don't know what the future will be, I dream of Sirio earning a bit of autonomy, to learn how to read and write, maybe one day he will live by himself", says Perniciari. "This is my biggest hope, that he can achieve the independence that he's looking for every day".
Irene Dominioni